Since "the human heart does not find peace until it finds and does not realize ...

Global rating average: 5.0 out of 5
Are all of our misfortunes from personal sins and why innocent children suffer (part 1)
Annotation:In the article, from the point of view of Christian anthropology, moral, moral and spiritual questions about the possible causes of human suffering, including those caused by diseases, including congenital defects of innocent children, are considered.
_____________________________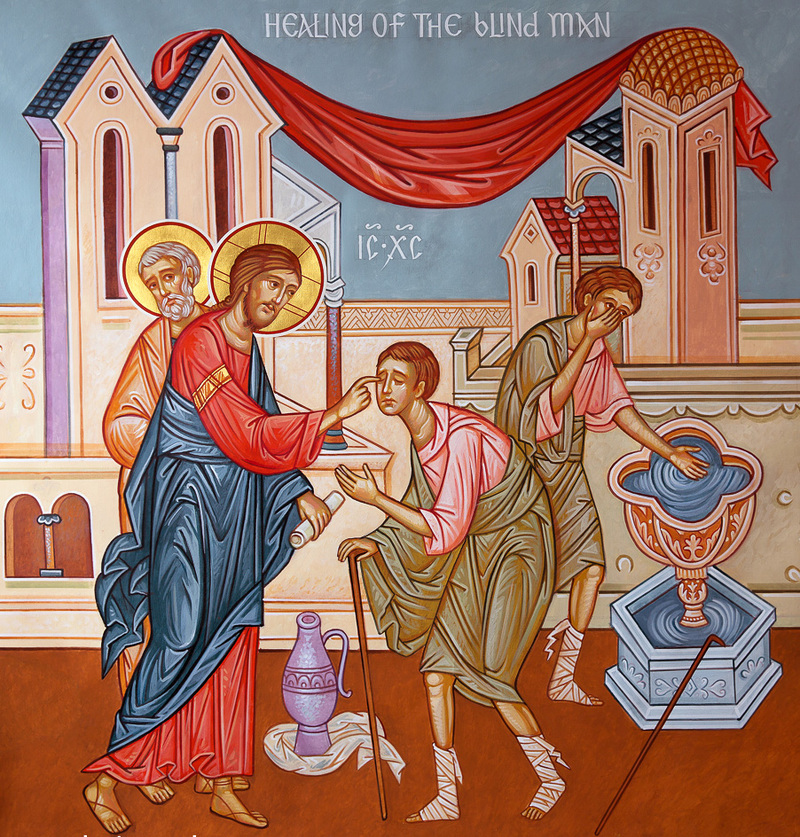 Healing the blind man (John 9)
Foreword
Chapter 1.

About personal sins and their consequences
Chapter 2

About the relationship (relationship) between sins and suffering
Chapter 3

About the influence of the sins of parents and other relatives on the fate (life) of their children
Chapter

Features of punishment of some people for the sins of others
conclusions
"I am the Lord, your God, a jealous God, for the guilt of the fathers, punishing children of the third and fourth kind who hate me" (Deut. 5: 9).
"... everyone will die for his own iniquity ..." (Jer. 31: 30).
"The son will not bear the guilt of the father, and the father will not bear the guilt of the son, the truth of the righteous with him remains, and the lawlessness of the lawless with him remains" (Ezek. 18:20).
FOREWORD
According to Christian notions, all the suffering, as well as physical mortality, resulted from the original sin. Before that, a person was in a state of opportunity not to die, which, with a certain spiritual development of Adam and Eve, could turn into a state of impossibility to die. In addition, a person initially did not have illnesses, fatigue, gloominess, passion, nothing of the surrounding nature could harm him, he had no internal temptations.
"Before the crime, they were clothed with God's glory ... Adam, while keeping the commandments, was a friend of God and dwelt in heaven with God ... Man was in honor and purity, was the ruler of everything, from heaven to far, he was able to discern passions, alien to demons clean from sin or vices ... "(St. Macarius the Great) (cited in 10). "So, God created man as an uncomplicated evil, direct, morally good, carefree, free from worries, highly decorated with every virtue that flourishes with all sorts of benefits, like some second world - a small one in the great, another Angel ..." (St. John of Damascus ) (22: 152).
After the fall into sin (that is, in the fallen world), it all changed to the opposite (see, eg, 20: 213-506)
According to st. Maximus the Confessor: "a change in the arbitrariness in Adam brought passion, corruption and mortality into the nature (human) "(12. See question 42),which—by law of continuity—transmitted to all people. The person also had an internal deviation to evil.Prp. Anthony the Great notes: "Evil has struck to nature, like rust to copper and dirt to the body" (quoted in 24: 251). On the state of people after original sin, St. Gregory the Theologian writes: "When, because of the envy of the devil and the seduction of his wife ... a man forgot the commandment given to him and was defeated by a bitter taste; then through sin he becomes an exile, removed at the same time from the tree of life and from heaven and from God, clothed in leather robes (perhaps in the most rude, mortal and opposing flesh), for the first time he perceives his own shame and hides God By the way, here too it acquires something, namely, death - in the suppression of sin, so that evil does not become immortal "(23. Word 45).
Met. Moscow and Kolomna Macarius (Bulgakov) about the changes in a person's life after original sin says that "there is nothing incomprehensible or improbable here.We see from experience that children inherit the diseases of their parents, and often these diseases are established for a long time and pass into known families from family to family. We know from experience and for simple reasons that a thin tree cannot bear good fruit (Matt. 7:18), that an infected stream naturally flows from an infected source, that when the root of a tree is damaged, then its trunk cannot remain unspoiled. Consequently, humanity, corrupted in its root, must inevitably be corrupted in its branches. And if the first man became sinful, injured his whole nature, then his offspring cannot but inherit the same sinful and damaged nature "(13: 507).
CHAPTER 1. PERSONAL SINS AND THEIR CONSEQUENCES
§1. The Bible says about punishment for personal sins:
"The Lord said to Moses: I will blot out the one who sinned before Me from My book" (Ex. 32: 33); "If you do not try to fulfill all the words of this law, written in this book, and you will not be afraid of this glorious and terrible name of the Lord your God, then the Lord will strike you and your offspring with unusual sores, great and permanent sores,and evil and permanent diseases; And all the [evil] Egyptian plagues that you feared will bring upon you, and they will stick to you; and every sickness and every sore not written [and every written] in the book of this law, the Lord will bring upon you until you are destroyed, and you will remain few, while you were like stars in heaven, because you did not listen to the voice of the Lord God of yours And as the Lord rejoiced in doing good to you and multiplying you, so the Lord will rejoice in destroying you and destroying you ... "(Deut 28: 58-63); "If I sin, you will notice and will not leave my sin without punishment. If I am guilty, woe to me! "(Job. 19: 14, 15); "He who seeks evil, seeks his death" (Prov. 11: 19); "Every crime and disobedience received righteous recompense" (Heb. 2: 2).
Jesus Christ clearly taught about the connection of sins with diseases:"Then Jesus met him (the healed man -Pd) in the temple and said to him: Behold, you have recovered; sin no more, lest a worse thing happen to you "(John 5:14). "St. The Apostle Paul explained the frequent sickness and death of the Corinthians as a punishment for the disrespectful and selfish behavior at the Lord's Supper. He also warned Christians against false religious worship, recalling sudden punishments sent to idolaters in the Old Testament "(1: 99).The punishment for disobedience to God is also said in other places of Holy Scripture, eg, Leo. 26: 14-41; Deut 8:19, 20; 11: 26, 28; 28: 15-68; 30: 15, 17-19; 31:20, 21, 29.
King Solomon and Jesus, the son of Sirach, spoke of the punishment for personal sin: "The trial of the sinners always follows the crime of the unrighteous" (Prem. 14: 31); "Do not add sin to sin, for even for one you will not go unpunished" (Sir. 7: 8); "And even if one was recalcitrant, it would be surprising if he were left unpunished" (Sir. 16: 11). This is also described in other non-canonical books of the Bible: "My hands will not pity the sinners ..." (3 Ez. 15: 22); "Woe to the sinners and to those who do not keep my commandments! Says the Lord. I will not spare them "(3 Ez. 15: 24, 25); "It is impious to act against Divine laws impunitely ..." (2 Mac. 4: 17).
Examples of the specific influence of personal sins on the fate of a person, or the punishment of a person for his sins, are found, for example, in the Second Book of Maccabeus: tombs. And they found in each of those who died under chitons, things dedicated to the idols of Iamnia that the law forbade to the Jews: and it became obvious to everyone,for what reason they fell ... the gallant Judas exhorted the people to preserve themselves from sins, seeing with their own eyes what happened through the fault of the fallen (2 Mac. 12: 39-42); "For when he (Menelaus -Pd) committed many sins against the altarLord'swhose fire and ashes were holy, then he died in ashes "(2 Mac. 13: 8).
§2. Let us cite other quotes about the connection between personal sins and the punishment for them.
"In every sin there is guilt and punishment, like two worms in a damaged tooth or in a rotten tree hiding. God does not want to blame (that is, sin), but it really sets up punishments for us, but betrays us by thoseexhaustion(to penalty) ... "(St. John Maximovich) (2: 477).
«Sin- the cause of all the sorrows of man, both in time and in eternity. Sorrows constitute, as it were, a natural consequence, a natural affiliation of sin, just as the sufferings produced by physical ailments constitute the inevitable affiliation of these afflictions, the action inherent in them. Sin in the broad sense of the word, otherwise the fall of mankind, or its eternal death, embraces all men without exception; some sins constitute the sad inheritance of entire human societies; finally, each person has his own individual passions, his own special sins, which belong exclusively to him.Sin, in all these different forms, is the beginning of all the sorrows and disasters that humanity undergoes in general, human societies are subjected to, every person in particular is exposed "(St. Ignatius Brianchaninov) (quoted in 3: 174. See Art.:" Punishment for sin ").
"Most misadventures come from injustices. For example, if injustices make wealth for themselves, then they ride like cheese and butter for a few years, but then they spend everything unfairly collected on doctors. Indeed, in the psalm as it is written:The small of the righteous is better than the wealth of many wicked(Ps. 36: 16). "The evil is living out - only to the wind of profit" - says the proverb. Everything that accumulates is not true, goes away, scatters in the wind. Diseases, bankruptcies, and other misfortunes, occurring as trials from God, happen rarely and with very few. Such people will have a pure bribe from God, and usually they will later become richer, like Job(from conversations with the elder Paisy Svyatogorts) "(quoted in 3: 190. See Art.:"Injustice -great sin»).
"All our illnesses are from our sins. When they turned to the Lord for healing, He always forgive sins first, and then healed them from diseases.Our sins, our unrighteous life, give us diseases "(archim. Ambrose (Yurasov) (4: 211).
Konstantin (Goryanov), Bishop of Tikhvin, Rector of the St. Petersburg Theological Academy and Seminary, Ph.D. , for example, as in the writer of the Bystripetor: "When Isaac was old and his eyes were dimmed, he called his elder son Esau" (Gen. 27: 1). The main reason for this approach is that the disease was usually seen as a punishment for sins. So, seeing the blind one, the disciples asked Jesus: "Rabbi! Who sinned, he or his parents, that he was born blind? "(John 9: 2). The disease could have been sent by God directly, for example, before the Egyptian executions "The Lord said (to Moses): who gave mouth to man? Who makes dumb, or deaf, or sighted, or blind? Am I not the Lord (God)? "(Ex. 4: 11) ...
The cause of the disease could also be human envy. So, in the same Job we meet: "Fool kills anger, and senseless kills irritability"(Job 5: 2); and on the other hand, "a meek heart is life for the body, and envy is bone rot"(Prov. 14: 30).
From the depths of the ages, the Old Testament points out the satiety, the Book of the wisdom of Jesus, the son of Sirach, from the depths of the ages: "My son! In the continuation of life, test your soul, and observe what is harmful to it, and do not give it to it ... Do not replete with any kind of sweetness, and do not rush to various food items; for from disease eating is disease, and satiety brings to cholera; many have died from satiation, but the temperate will add life to themselves "(Sir. 37: 30-34). However, in any case, it is believed that ultimately the disease sent down by God for sins ...
The test of disease must excite the consciousness of sin in man. In the pleading psalms this is noted: a prayer for healing is always accompanied by a confession of sins: "There is no room in my flesh for Your wrath; There is no peace in my bones from my sins. For my iniquities have exceeded my head ... They stink, my wounds fester from my folly "(Ps. 37: 4-6). However, the question arises whether each disease is a consequence of the sick person's personal sins? And the answer to this question is not always clear ... With a religious view of illness, healing was understood as a sign that a person is forgiven by God, "for I am the Lord (your God), your healer" (Ex. 15: 26) "(9).
"There is a direct connection between pain and sinfulness, which is confirmed by many passages:" Your sin is forgiven thee, "says the Lord, healing one. "Go and sin no more," says another. Therefore, I repeat that the holy fathers advise at any illness to first confess and take communion (archpriest Valentin Mordasov) (quoted in 3: 294).
"Throughout the Holy Scripture, there is a motive that somatic and mental illnesses arise precisely as a result of violation of moral laws. This discovery is confirmed by modern research in the field of medicine and psychophysiology. Eg, Sverdlovsk doctor, prof. I. I. Benediktov in his book "Letters on Love" holds the idea that the quality of human love and the physical health of a person largely depend on the observance of specific restrictive norms (or commandments). And on the contrary, he argues, licentiousness and lack of control may well lead to various diseases: infertility, frigidity, anorgasmia, and so on. (5: 91, with reference to: "Benedicts I. I. Letters of Love. S. 20").
Exceptionsfrom the punishment for breaking the commandments of God are the cases when the wicked turns from sins:"And when I say to the wicked," you will die death, "and he will turn from his sins and will do judgment and truth,ifthis wrongdoer will return the bail, will pay for the stolen, will walk according to the laws of life, doing nothing wrong, - then he will be alive, he will not die. Not one of his sins which he did will be remembered to him; he began to do justice and truth, he will be alive "(Ezek. 33: 14-16).
Let us now consider, in addition to the above, the biblical words: "fathers ate sour grapes, and children have teeth to grind," sometimes cited to justify the guilt of children in the sins of their parents.
Imagine excerpts from an article by A. Popov: "" Fathers ate sour grapes .... ".
Do children bear responsibility for the sins of their parents? "Where this issue is analyzed in detail.
"Our Church has always given and gives a clear answer: children are not responsible for the sins committed by their parents. There have been cases when a shepherd, to whom people who were grieved for the loss of his child, came, said that this was a retribution for the sins committed before that by the parents themselves. Commenting on such cases, His Holiness Patriarch Kirill of Moscow and All Russia, on October 25, 2017 at the VII All-Church Congress on Social Service, said: "If someone says that for sins, then such a priest should be banned from the priesthood immediately.How can you? I do not know with what heart and with what head a priest can be, so to say to an unhappy mother or father! "(15).
But what about the words about "sour grapes"? What does Holy Scripture tell us? Let's see and find a reasoned answer.
In the Scriptures, we really find the words that "the one on the teeth and the edge of the edge". The most interesting thing: they are repeated even more than once. Only here there is one "but": citing this passage as an argument, people usually take it out of context. Let us look at the Book of Ezekiel where the following words are: "And the word of the Lord came to me: why do you use this proverb in the land of Israel, saying," Fathers ate sour grapes, and children have teeth on teeth "? I live! says the Lord God, they will not speak forth this proverb in Israel ... The son will not bear the guilt of his father, and the father will not bear the guilt of his son, the truth of the righteous will remain with him, and the lawlessness of the lawless will remain with him ... everyone will die for his own lawlessness; whoever will eat sour grapes, he shall have teeth and a face of bite "(Ezek. 18: 1–3, 20; Jer. 31: 27-30) ...
In the book of Crying Jeremiah there are such words that for some may become a "stumbling block": "Our fathers sinned: they are no longer there, and we bear the punishment for their iniquity" (Lamentation 5: 7).This book was written by the holy prophet Jeremiah after the destruction of Jerusalem and the capture of God's people in the Babylonian captivity.. The righteous husband points out that people have sinned, and their children will suffer. But I note: they suffer not for the sin of their ancestors, but for their lack of faith and lack of repentance before God ...» (19).
Related news
The son will not bear the guilt of the father, and the father will not bear the guilt of the son, the truth of the righteous with him and remains, and the lawlessness of the lawless with him and remains (Ezek. 18:20) image, picture, imagery